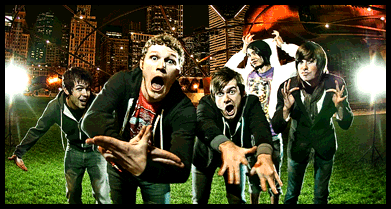 5 piece Alabama-based band
The Arrival
isn't what you think they are. I wanted to immediately stick them into the same pop rock, Alt. Press box that's already packed to the seams with sceney-boppers and All Time Low wannabes.
However, there is one thing I had to remind myself of inbetween every song: The Arrival is
unsigned
. It's kinda crazy that a band recording out of somebody's house sounds this clean and high def.
No. 1 reason to heart them: The lyrics. They aren't typical of their genre. "Is This What You Call Love," from their self-written and self-produced EP, opens with "Maybe we hit the bedroom way too soon/But I don't know why, I can't deny/I don't want to grow old with you." Okay!? The opposite sentiment continues in "Forget About The Forecast." A sweet slow jam in the same vein as "Umbrella," but more romantic. The Arrival has talent when it comes to the sweet stuff. They start off soft and go down smooth. YouTube "Put Your Money Where Your Heart Is" and "Surrounded."
Not to mention, I'm a SUCKER for a good cover. I found myself swaying in my seat to their version of MJ's "Rock With You." Vocalist Jeff Mitchell's high notes are pitch perfect. It's 10 times better than Cobra Starship's "Billie Jean" cover and a million times better than any number of "Beat It" covers on the internet.
Don't write them off as more of the same thing. The Arrival is not the same thing. Thank goodness! There are only so many sound zombies a person can take.
Labels: Forget About The Forecast, Is This What You Call Love, Put Your Money Where Your Heart Is, Rock With You, Surrounded, The Arrival, The Independents