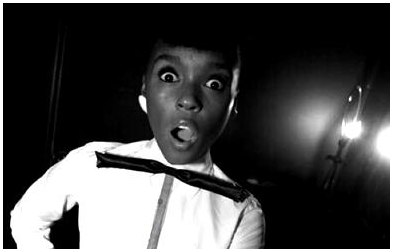 Anyone with Prince as a fan has to be working with something crazy original. From just one song you can hear how funky
Janelle Monae
is. It's like there's a brass section playing in her veins.
To be fair, she isn't brand spanking new. She's done past projects like the "
Open Happiness
" Coke campaign and Outkast's 2006 film
Idlewild
. Her latest is the super danceable "Tightrope" and it's equally
peppy music video
. Which, if we lived in a fair world, would be owning the charts right now. Fortunately, it only gets better from there.
"Wondaland" is artificial genius. "Sir Greendown" is old-school, but fresh. "Dance or Die" is my favorite cause it's so very innovative you can't put one genre on it. If you want to backtrack "Violet Stars Happy Hunting!", "Many Moons" and "Sincerely Jane" are cool and inspirational.
I give it a few more months until people finally catch on to how awesome her music is. It really shouldn't take forever. Emphasis on 'should.'
Labels: Dance or Die, funky, Future Hit, Idlewild, innovative, Janelle Monae, Open Happiness, Sir Greendown, Tightrope, Wondaland