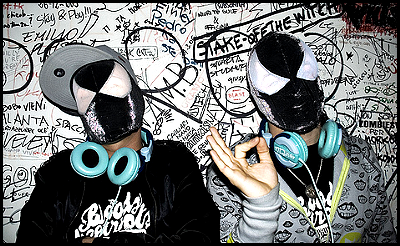 They look like the masked wrestlers of trip-hop. And the archnemesis' to everything cute and/or bubblegum. But they sound like every club hoppers dream date. Never thought I'd be leaving the future of underground dance music in the hands of two identity-phobe Italian DJs - whose legal names are Bobby and Tommy. Then again that just goes to show how much I think I know.
As the saying goes, if it doesn't move you - you must be dead. To avoid hearing anything abrasive or just anything you might not be prepared for -
first listen to this song
titled 'Awesome.' It's by The Bloody Beetroots (of course) and they did it with everybody's favorite monotone voiced BMX bike-riding rappers, The Cool Kids. If you don't like it stop here.
If you do like it, hit up
Playlist.com
and search 'Butter (Draft),' 'Mac Mac' and 'Live Good.' From there you can find a massive body of remixes TBB has produced, from Timbaland and Alphabeat to The All-American Rejects and The Kills. They probably won't sound a thing like the original though - disclaimer. But it's so sick anyway.
Labels: Awesome, Butter, Heatseekers, Live Good, Mac Mac, The Bloody Beetroots, The Cool Kids