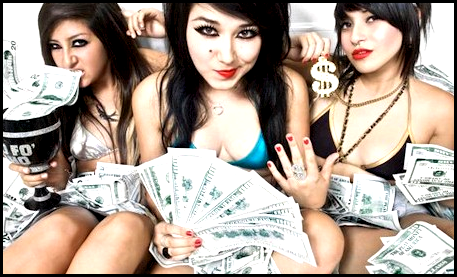 I was compelled to listen to this after they were listed as a
former top MySpace group
. I was expecting some kind of artificial party sound, but it ended up sounding so bad, I had to warn people about them.
Millionaires are bunch of scene queens who call themselves 'electro/pop.' I call it over-synthesized club music aiming for the ultimate pop prize - to be catchy - and landing in the valley of the deathly annoying instead.
The vocals are worse than rubber tires screeching on wet pavement. The lyrics are simplistic and only as good as the listener can stand them. There is absolutely nothing of substance. They even joke on one song that they have no talent.
However, when I heard
'Just Got Paid, Let's Get Laid'
I ended up liking it a little bit. Mostly because it's the only catchy song they have and the chopped up, sexified chorus is very
Three Six Mafia
. Which poses the question: are Millionaires really trying to trigger a counterattack against the rap/rock industry while combating the misogynistic code that says women can't sing about money, booze and sex? Even the name, 'Millionaires' (done in the same style as the glittery Cash Money album art of the '90s), seems to be poking fun at the genre and the characteristics of the culture.
But I'm probably just giving them too much credit... and reading into things that don't actually exist. Their other song
'Alcohol'
is basically 'Let's get f--ked up!!' over and over again, afterall. You be the judge.
Labels: Alcohol, Just Got Paid - Let's Get Laid, Millionaires, Press Stop, Three Six Mafia