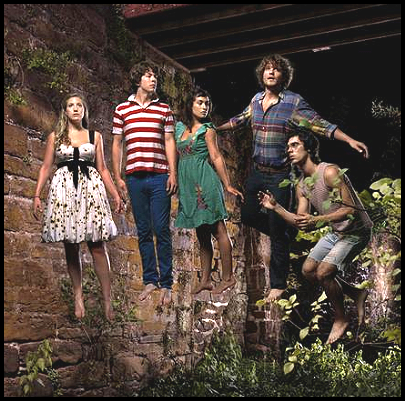 They think they sound like "a frothing cauldron of gruel." They really sound like a frothing cauldron of symphony rock. Not sure if there's a such thing as symphony rock - but I officially coin the phrase. 'Ra Ra Riot,'
which I mentioned
the first time I wrote about indie two-piece pop band Discovery, is a rock band with a girl on violin and another girl on cello. The rest of the members play assorted instruments and they all contribute to the vocals.
I thought it very appropriate to go back and talk more about them.
Ra Ra Riot
, part string section and part indie rockers, has a soft and romantic sound. It's kind of whimsical as well. Those that prefer a sound that's heavier, louder or aggressive won't be able to stand it. It seems like it's meant for gentle souls, poets and aspiring artists. They might sound right at home in a theater - because a coffee shop is too predictable. It's hard to put into words, but Ra Ra Riot manages to be incredibly sweet without being annoying.
My only qualm is that a couple of their songs could be interpreted as awfully emo. They have a song titled 'Dying Is Fine.' Don't worry, it's not a tearjerker, it's actually surprisingly upbeat. They've got a bright future ahead of them - as if doing shows with Death Cab for Cutie and The Killers wasn't already a sign of success.
Labels: Discovery, Dying Is Fine, Ra Ra Riot, symphony rock, The Independents